Nils-Olof Franzen
Nils-Olof Franzen was a Swedish author who wrote the popular book series, Agaton Sax. Originally just a Swedish language book series, it was later translated into English, and went on to become a beloved TV 'Jackanory' classic with Kenneth Williams as the narrator. An animated Swedish language full length film adaptation was created, and has now been re-released on digital streaming platforms by AUK Studios, with an all new English voice cast and music score.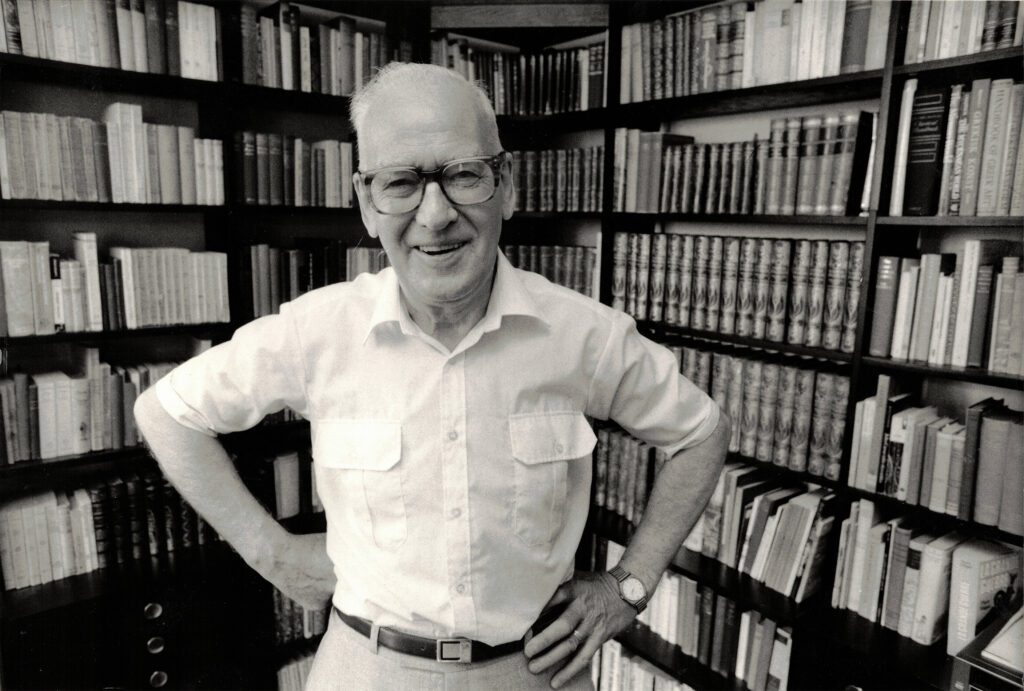 Agaton Sax
"The British series was immensely popular, and as a result became the "most re-issued detective/mystery series in the history of Nordic children's literature in British translation for the period 1950–2000"
The Agaton Sax series of books were first published in Sweden, later being translated into English and printed with illustrations by much-loved artist Quentin Blake (perhaps best known for his work on the books of Roald Dahl). The English translations became immensely popular, achieving the status of the most re-issued mystery & detective series in the history of Nordic children's literature.
Now, after many years out of print, Oak Tree Books is proud to publish the entire Agaton Sax series, newly translated and illustrated for the next generation, as well as all new audio and eBook versions of all eleven tales! This new collection includes the elusive eleventh book, which has never before been released in English.
Agaton Sax – The Movie
It is 1963, and two of the most dangerous criminals are on the loose. Only one man can catch them: Swedish detective Agaton Sax, with the help of Clever Dick, his computer. However, secretly the villains plan to steal Clever Dick's memory, and who are these other two men who look exactly like the two crooks? Find out in this digitally remastered classic, with a full newly recorded soundtrack.
Agaton Sax and the Cashless Billionaires
For the very first time, this eleventh Agaton Sax adventure is now available in English!
Agaton Sax, Sweden's best detective, must decipher the mystery of a sticky-fingered thief whose calamitous crimes see him targeting a group of billionaires and their mountains of money. Flown on a private jet to a castle in England to catch our corrupt culprit, Agaton enlists the aid of his friend and colleague from Scotland Yard, Inspector Lispington.
But can this duo discover who is behind the billionaires' bankruptcy? Or have the intrepid investigators finally met their match?
Buy on amazon – eBook, audio book, paperback, hardback
Agaton Sax and the Big Rig
Frankly, Agaton Sax should know better than to go on vacation. At least, this time, he's managed to enjoy some rest and relaxation without stumbling into a criminal conspiracy.
On the way home however, it's a different story… from a slow train through Brosnia to a castle in Edinburgh and onwards to a motorboat speeding across the North Sea, Agaton Sax is up against a criminal mastermind who is almost – but not quite – as clever as he is. And there's garlic. Far too much garlic.
Buy on amazon – eBook, audio book, paperback, hardback
Agaton Sax and the League of Silent Exploders
When taking a well-deserved holiday in the beautiful country of Brosnia, Agaton Sax and his faithful dachshund find themselves on the wrong side of the law when the great detective is declared to be an imposter and arrested. Meanwhile, a gang of criminals are planning to wreak havoc with the most dangerous invention of the century: silent explosives!
Agaton Sax must clear his name and catch the dangerous crooks, all whilst dealing with a suspicious Inspector Lispington, a man with one steel shoe, a gang of angry racing car drivers and a pair of interfering aunts.
Sounds like just another standard case for Sweden's greatest detective…
Buy on amazon – eBook, audio book, paperback, hardback
Agaton Sax and the Haunted House
Agaton Sax returns to fight his biggest criminal plot yet!
Upon receiving a mysterious telegram during breakfast, Agaton soon finds himself searching to uncover the enigma around it. But it's not just one criminal mastermind behind this confounding communique – it's a whole cabal of them! And when Agaton discovers that they have captured his friend and confidant Inspector Lispington, Sax must come to the rescue as well as put a stop to the dastardly devils and their pernicious master plan – one that may spell the end for Sweden's most famous detective!
Buy on Amazon – eBook, audio book, paperback, hardback
Agaton Sax and the Diamond Thieves
When a world-renowned artist approaches Agaton Sax and asks to have his daily illustrations featured in the Byköping Post (the world's smallest newspaper, but also the best) the detective's interest is piqued. Could the detailed patterns and swirls within the pictures hide a secret code? Maybe they will lead to a nefarious plot for Agaton to foil…
But is a 113-year-old man really behind it all? And will Sweden's greatest crimefighter get an opportunity to put an old acquaintance back behind bars where he belongs? It's yet another fascinating case for the one and only Agaton Sax!
Buy on Amazon – eBook, audio book, paperback, hardback
Agaton Sax and the Scotland Yard Mystery
Agaton Sax faces one of the most challenging cases of his career when a secretive and evil mastermind steals Scotland Yard's Register of Current Criminals from under the very nose of Inspector Joshua Lispington.
To get it back, Agaton will need to employ his considerable skill and intellect, as well as overcome fake detectives, masked men, incompetent sailors and a rogue pirate ship.
It's just another day in the exciting life of Agaton Sax, Sweden's finest and most inventive detective…
Buy on Amazon – eBook, audio book, paperback, hardback
Agaton Sax and the Criminal Doubles
Agaton Sax is Sweden's greatest detective and has solved more than his fair share of difficult cases. But when two men arrive at his office asking for help, Agaton knows that he'll really have his work cut out – particularly because they appear to be identical doubles for two of the world's greatest criminal masterminds. When it turns out the real masterminds are also in the area, things get interesting.
Will Agaton Sax be able to tell the criminals from their doubles? And will he get to the bottom of this curious mystery? He hasn't failed to crack a case yet, but there's always a first time…
Buy on Amazon – eBook, audio book, paperback and hardback
Agaton Sax and the Max Brothers
Agaton Sax, private detective and editor of the world's smallest newspaper (but also the best) loves a good trick.
Mind you, a brain like his is pretty hard to fool.
So when conjurors extraordinaire the Marvellous Max Brothers come to Byköping just days after there has been a daring raid on the Bank of England, the stage is set for a magical mystery tour that will see our heroes and villains travel across Europe – by train, car, plane, helicopter and… barrel?!
Buy on amazon – eBook, audio book, paperback, hardback
Agaton Sax and the Colossus of Rhodes
There are not many cases, even in the files of Agaton Sax, that involve ancient art, devious dentistry, false Frenchmen and a temporary tooth. The story of the Colossus of Rhodes, however, is one of them.
Left giddy by a hefty dose of anaesthetic after a visit to the dentist, Agaton's good friend Lispington is powerless to fight back against the criminals capturing him. With many miles separating the two, Sweden's finest detective can do nothing but stand by and listen in helplessly.
But when Agaton Sax pursues the case and seeks out the nefarious criminals that have spirited his friend away, he finds that there is more to the case than a simple grudge against Scotland Yard…
Buy on Amazon – eBook, audio book, paperback, hardback
Agaton Sax and the London Computer Plot
The Boss is back… and he's brought his Big Brother with him!
With his hidden microphones and numbered gang members, the devious criminal mastermind known only as "the Boss" has broken out of prison and has been working hard behind the scenes to topple the financial institutions of the world.
His plan appears to have something to do with computers. And possibly potatoes. In any case, it's up to super sleuth Agaton Sax – along with Aunt Matilda and the long-suffering Inspector Lispington – to stop them the criminals their tracks… if they can.
Buy it on amazon – eBook, audio book, paperback, hardback
Agaton Sax and Lispington's Grandfather Clock
Thanks to Agaton Sax's incredible investigation abilities, a plot to poison Scotland Yard's Inspector Lispington is foiled and an attack on the detective's own home ends up with the capture of two crooked criminals.
But where did the criminals come from? What were they looking for? And what could possibly drive them to sabotage Lispington's muffins? Unable to turn a blind eye to the crimes committed, Sweden's finest detective sets out to follow the clues the criminals have left behind, unravelling the mystery that's been thrust upon him…